Website Content Optimization
For decades we have been discussing the importance of the proper optimization of small business websites.  Optimization should not be an afterthought and it  is paramount to address and implement it during the development stage and prior to launching.
When we speak of optimizing website content, this includes image optimization. Google's John Mueller recently provided insight as to how the search engines see and consider images when determining overall website content and quality. Image optimization isn't simply compression but it includes meta data that permits the search engines to see the images and translate them into optimized content that helps your website rank well.
Pay Now or Pay Later 
Many website designers can present an aesthetically pleasing, functional website.  All too frequently however, they are missing a crucial step in the development process. What you don't see can hurt you and this is why we focus on designing websites that follow Google's Best Practices. Optimizing your content needs to be done and should be done before your website is launched or you'll have to go back and complete that task at a later date. We are still surprised when small business owners call us for SEO services and we have to optimize content that should have been optimized in the original build. This is a costly mistake many small business owners make simply because they lack the knowledge to know what they're expectations should be from their website designer.
Google is Ever -Changing but Content is Still King
Google has rolled out thousands of small changes and major core updates over the past few years. With every major update we have noted that one thing holds true– Content is still king.
Healthy websites are very important so keeping your site up-to-date by performing regular website maintenance tasks will keep you ahead of the game when rollouts do occur. Focus on site speed, security and engaging content for your customers then follow the recommended best practices with regards to onsite optimization.
Website Designers & SEO Experts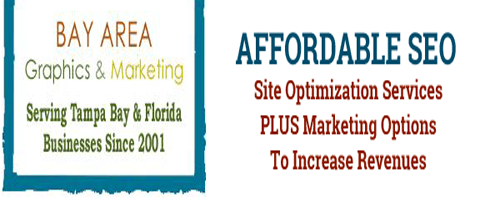 Bay Area Graphics & Marketing  has decades of experience developing highly optimized websites at an affordable price. Teaching our clients about website design and search engine optimization is important to us so you can invest in your website and online presence with confidence.
For more information, call 813-778-9548 or leave us a secure message below.